Whether you're an experienced paramedic looking for a fresh challenge, currently studying and considering where to begin your career, or simply want to feel you're making a difference with your skills and experience every day you come to work, use this site to discover the wide variety of clinical and non-clinical roles we are recruiting for today.
Here are the stories of our young staff members together with a section on working with us, plus application form and interview tips and much more.
About SCAS
South Central Ambulance Service NHS Foundation Trust (or SCAS for short) is part of the NHS and is an award winning Ambulance Foundation Trust which delivers excellent patient care year-on-year. We serve the counties of Berkshire, Buckinghamshire, Hampshire and Oxfordshire, and Sussex and Surrey for NEPTS. This area has a residential population of over 7 million.
SCAS in numbers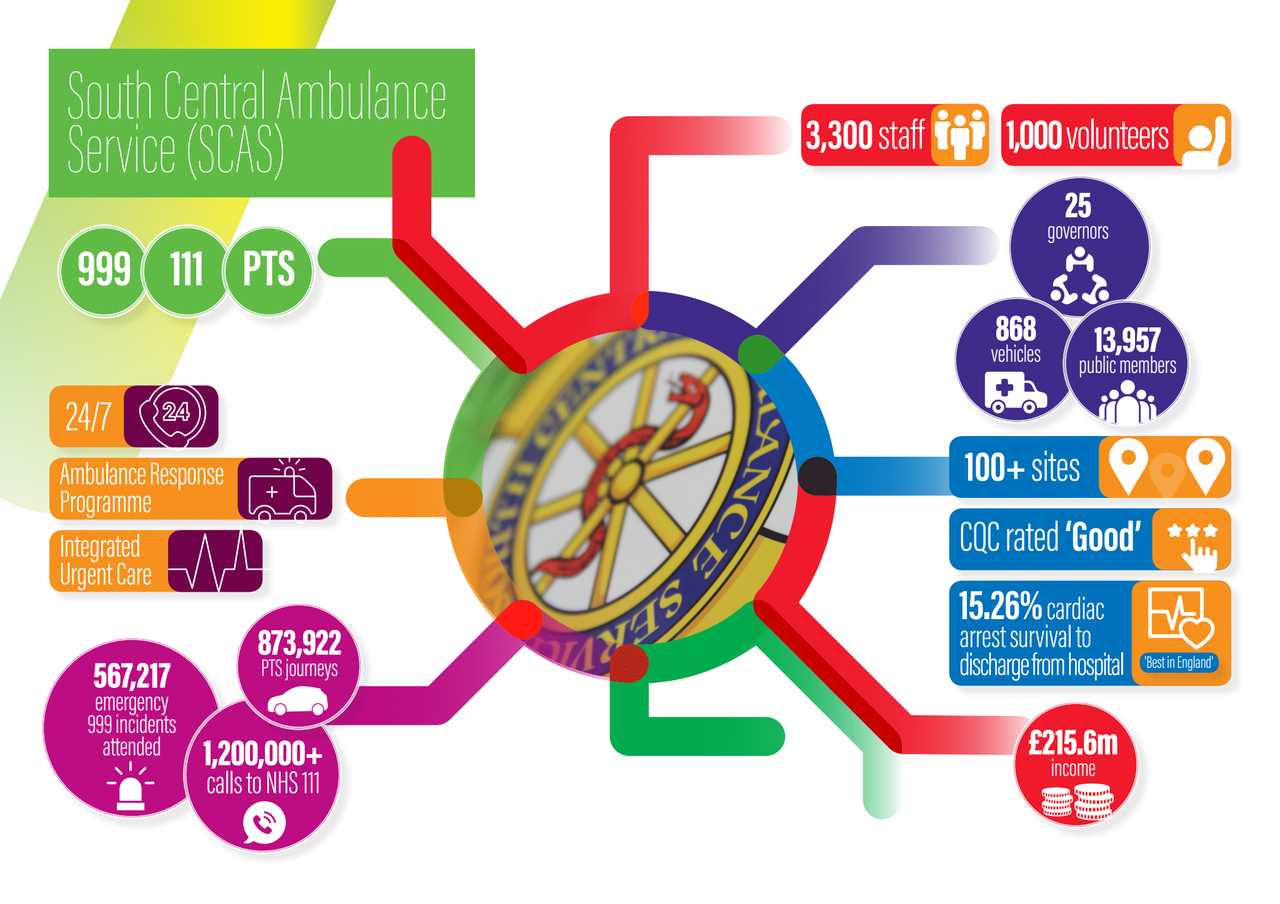 SCAS locations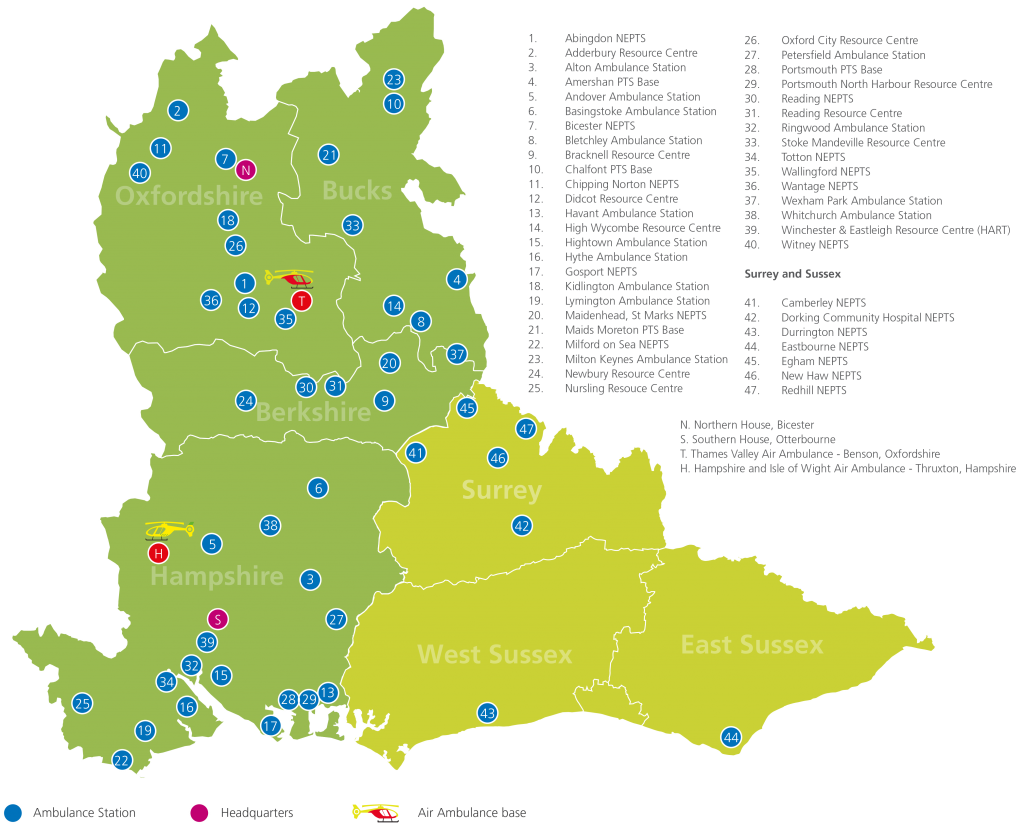 Working at SCAS
The following sections are intended as a guide for students to getting ready to step into the world of work.
Working with the NHS is rewarding in several special ways:
you'll be part of a unique organisation whose whole purpose is to improve people's health and provide treatment and care for those who need it
whatever job you're doing you will be helping make a difference to people's lives
through training, mentoring and other support you will be encouraged to develop your full potential at work
you'll enjoy excellent benefits in terms of paid holidays and an excellent pension scheme
For some, but not all jobs at SCAS you will have to complete a course at university or college to equip you with the knowledge and skills you'll need. Whether you're planning to apply for a place on a course or for an actual job the following segments give you some very useful tips about what SCAS (and universities or colleges) usually look for in applications.
Find out more at www.scasjobs.co.uk.
Get experience
The single best thing you can do to prepare for a career at SCAS/NHS is to get some work experience or do voluntary work in an area of health and social care. It will show you whether you'd like to work in this sector. It will also be something that employers and universities will be looking for when you apply for a course or a job.
Check out our section on getting involved with us
.
Your job application
If you apply for a job with us you will need to complete an online application via the NHS Jobs website.
Because you may have little, if any, experience of working other than at school, make sure your application includes everything that demonstrates your ability to be part of a team and take responsibility for yourself and others. For example, include:
any voluntary work you've done
projects such as Duke of Edinburgh awards
any work experience that shows your ability to be trustworthy and punctual
mention of any babysitting or other caring that you've done
any experience helping with older or ill people, family or neighbours
participation in team games
anything you have done to help younger students in your school
It is also vital that you think hard about why you are keen to follow a particular career and be creative in making the link between this and your own life experience so far.
Application forms
Whether you're applying for a job or a college or university course, you will need to complete an application form. The work you've done in preparing your CV will help you with completing the application form. Remember that the purpose of the form is to present individual information in a standard way so that everyone can be considered on the same basis so:
follow the instructions carefully
provide all the information the questions ask for
work with the space available for each section and don't miss any sections out
most forms will give you the opportunity to say something about yourself and why you're applying the thinking you've done for your CV will help you with this section
make a practice copy first that you're happy with before you complete the actual application form
Interviews
If you are asked to an interview either for a job or a place on a course the aim is to confirm whether you have the attitude, motivation and ability that will be needed. So you have to give a good account of yourself. You will increase your chances if you:
check out in advance where the interview will be held, work out how to get there, and arrive with plenty of time to spare. Remember that universities can be large and busy places: you need to know exactly where you need to be for your interview
remember the interview panel are on your side. You have been invited to the interview because they liked your application form and want to know more about you
listen carefully to the questions they ask, and answer them as clearly as you can
don't rush. Think about your answers. If there's something in the question that you don't understand, ask for clarification
take the chance to ask any questions that you have for them.
Watch our videos giving some great interview tips at https://youtu.be/Ob_XL2d4vUo and at https://youtu.be/NkVFoBPcgO8
Applying to higher education
A day in the life of a......