We get called out to a lot of incidents involving young people. Some of these are just unfortunate accidents, but many can be avoided. So we decided to list all the common reasons why a young person could find themselves in the back of an ambulance.
We also wanted to give you some really good advice on the correct use of 999 and 111, together with lots of information and guidance about the main issues which teenagers face nowadays. Be Smart Be Safe
The content on these pages comes from various sources and is intended to be helpful to the general public. We recommend that you see your local healthcare professional if you have any concerns over your personal health or wellbeing. We can't accept any medical responsibility for the information displayed.
---
Competition
In June 2020 we launched a competition for young people! We asked if you could send a message of support to any other young person right now what would you say? It could be anything – drawing, painting or even a poem! The winners would receive a visit to their school as soon as government guidlines allowed us to.
We had some brilliant enteries, here are all our winners!
Jordan – Treloar College (Hampshire)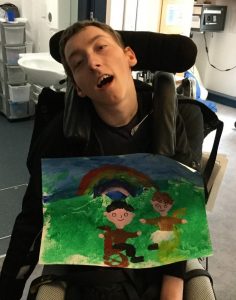 Elias – Apollo Cubs (Hampshire)
My poem of support
A good friend is always near
Never too far
Never to fear
They are always here
And always will
With a happy cheer
They never give up
Even when things are tough
They remain as happy as a pup
Friends are key during lockdown times
Stay as strong as a lion
We will meet again some time….
Paul – Treloar College (Hampshire)